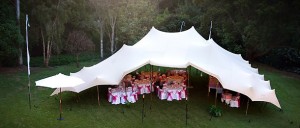 Every event evokes a particular emotion. Events are an experience that brings the guests along for a ride. And you are the train conductor. You determine what kind of ride your guests will have and where you want them to go. You get to decide how you want your guests to feel.
A classic country wedding that invokes romance and simplicity, the feelings of days gone by. The big annual meeting that has employees excited about their jobs, the future, and increases feelings of loyalty. The family festival in the park that swells with laughter and encourages community, where parents leave grateful for a safe and fun place to take their kids.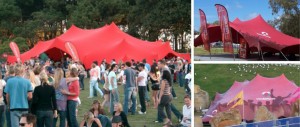 To that wedding guest, that loyal employee, and that grateful parent, that event wasn't just a way to spend a few hours of their day. It was an experience to remember that lingers with positive emotions. And when they think of this event in the future, they'll once again recall those emotions and think of it fondly.
And that is exactly the point!
So how do you create an experience that will have your guests evoking positive associations for months and possibly years to come?
Event architecture!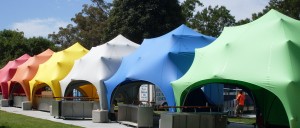 Using StretchStructures at your next event isn't just about finding a tent to protect your guests from the weather. It's creating an entire experience. And the easiest way to create this experience is through high-quality and well thought out event architecture.
There are a wide variety of stretch fabric architecture, exhibition, and event products available to provide dramatic visual impact and to highlight the feeling of your event.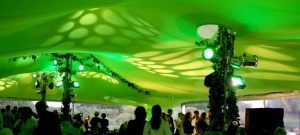 Use the stretch Lycra products indoors or out for:
Room dividers – lead guests where you want them to go and create a more intimate setting within a larger venue or tent
Projection surfaces – play a movie, project images, or use lighting to create added visual impact
Ceiling decorations – choose shapes and colors that meld with your theme and soften any space
Backdrops – hide wires or nooks that are less visually appealing, add punches of color, or create a simple space to draw the eye to the main focus of the room
Signage or company branding at festivals, conferences, events, and trade shows – make sure guests remember who sponsored their favorite event or who they interacted with.
You can transform your space and demand attention with any of these exciting pieces.
And with StretchStructures you know you are getting the same high-quality you've come to expect. The high performance stretch Lycra used in all of our architecture pieces is flame retardant, printable, and long lasting. We also make it convenient to use these products by keeping them lightweight, cost effective, easy to install, and a snap to pack down for shipping and moving.
Stretch event architecture is a fun way to create your perfect setting, enthrall your guests, and ensure that feeling remains long after your event is over.
Contact us today to create the experience you're looking for.